For the Apple MacIntosh
As of this writing there are two network modes that can be used for the Mac running system 7. To establish an TCP/IP connection on the Mac you can use the older MacTCP control panel or the newer Apple OpenTransport 1.1. MacTCP has the advantage of being somewhat more stable with fewer bugs on the PowerMac. Users adopting OT 1.1 will notice a performance increase over MacTCP. We will discuss both configurations below.
MacTCP
The first step in configuring your Macintosh for TropicNet is to configure MacTCP. If you do not have a MacTCP control panel listed in your Control Panels, you need to obtain MacTCP.
Instructions: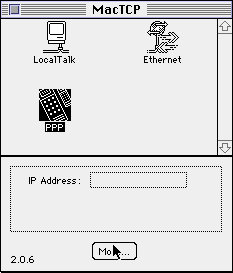 Open the Control Panels folder. This can be found either in your System Folder, or under the Apple Menu in the upper left-hand corner of your screen.

Highlight the PPP icon in the MacTCP window, and click on "More". If you do not have the PPP icon listed, you can obtain a copy of FreePPP 2.5 by downloading the files from the FreePPP Product Information Site.

In the upper left hand window, labelled "Obtain Address:", select the entry "Server".

In the upper right hand window, labelled "IP Address:", click on the letter beside the word "Class" and select "C".

In the lower right hand window, labelled "Domain Name Server information", you will want to enter the domain name of Tropicnet.net in the left hand text box, and the number 205.159.140.2 in the right hand box. Click on the button all the way to the right, labelled "default".




























Configuring FreePPP 2.5v2 for TropicNet
If you are not running PPP version 2.5 get it from their site. Install using the setup Monkey installer. If you were using an earlier version of PPP you will notice that it uses the same PPP preferences in your system folder so all the settings for any other Internet Service Provider you were using are all there. After selecting OpenPPP setup from the FreePPP Menu you will get this dialog box: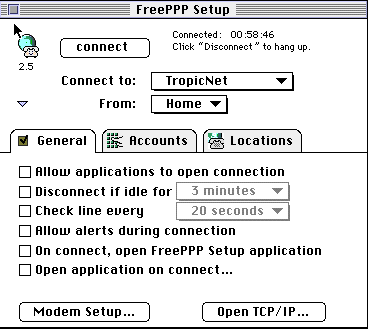 It is not necessary to make any changes on this screen. Click on the Accounts menu to get this screen: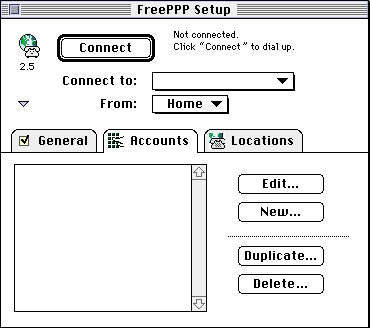 Click on New... to create a new account called TropicNet. Type in the phone number shown below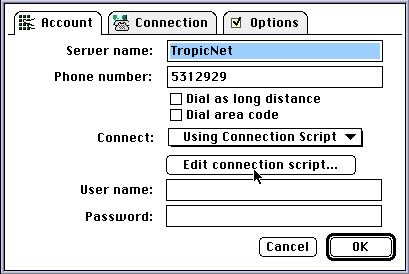 Now you just need to type in the connection script. Click on Edit connection script... to bring up the final dialog box: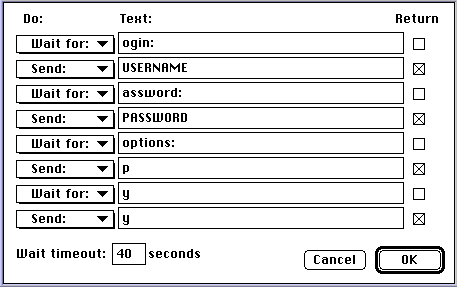 Type on your user name on the second line and your password on the fourth line. Be sure to check the appropriate return boxes on the right. Click OK. Now select the Options menu to set your port speed and to type in your modem initialization string. "AT&F" commands the modem to load its default initialization string from its ROM. That is usually good enough.
Getting started
Restart your machine for the changes to take effect.

Select "Open PPP connection" from the FreePPP menu

Start your application of choice, and enjoy ...


Using Open Transport instead of MacTCP
These instructions will help you configure your Mac for either dynamic or static PPP dialup service with TropicNet.This configuration applies to the newer Macintoshes using the PCI-bus architecture as well as those who have upgraded their system software to system 7.5.3.
What's the difference?
These newer machines and updated system software contains new software that handles your network connections called Open Transport. If you desire more information, you can read the Open Transpot FAQ (we suggest at a later time) courtesy of Apple. However, for the sake of connecting to TropicNet there are essentially two new changes to be aware of.
**Note** You should make sure that you are using at least version 1.1 of Open Transport. You may check the version by selecting the icon in the control panel and choosing get info. Older versions still have compatibility issues with other applications. If you have already upgraded to system 7.5.3 the latest version of Open Transport is included. If you are running an earlier version than 7.5.3 you can obtain the System 7.5.3 updater on line which includes OT 1.1.1
Two New Changes
1) One is that the control panel used to make a TCP connection is no longer called MacTCP as before. The new control panel is simply named TCP/IP. The components for setting up are essentially the same, in fact if you have have previously connected to TropicNet, and merely upgraded your system software to 7.5.3 and are still using a Nubus Macintosh , the preference file should have remembered your previous MacTCP settings and properly configured the TCP/IP contol panel for you. You should follow the instructions anyway to confirm that everything is properly set. By the way this software comes with the system software.
2) The second is that you need Free PPP 1.0.5 or greater which is compatible with Open Transport. Older versions of Mac PPP such as 2.0.1 or 2.2.0a have known compatibility issues. If you don't already have it, you can download it from the free PPP site.. You can also get it from any of the commercial online services if you are online. If you have never been online and this is your first time connecting you can call TropicNet and we will mail it to you for $5.00. If you have configured Mac PPP before the configuration is identical.
TCP/IP Control Panel
The TCP/IP control panel should already be contained in your Control Panels folder. To make sure open your control panel and make sure you have an icon that looks like this:

TCP/IP
Configuration of TCP/IP control Panel
Go to the Control Panels and choose TCP/IP. From Edit in the main menu bar choose User Mode. Select Basic and then click on OK.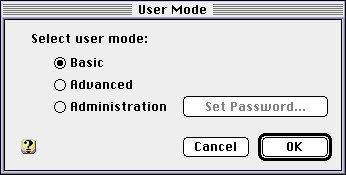 Next, follow the settings pictured below. ( In the pull down menu next to connect via: It may say "Free PPP." That is fine).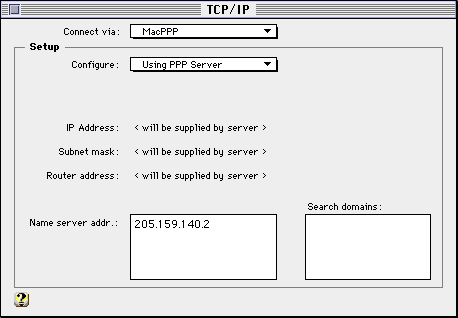 Close the window and you are done! Open up FreePPP and dial us up!!
Other Applications
You can download the latest Netscape Navigator software directly from their official site:
Other Internet applications for your Macintosh can be obtained from the Journey Home Page
---
Obtaining MacTCP
To obtain MacTCP, you must either:

Have Macintosh System Software version 7.5 or 7.5.1. Macintosh System 7.5.2 included with the 7500, 8500, and 9500 PCI-based PowerMacs does not come with the MacTCP control panel.

Purchase a copy of the MacTCP control panel. To obtain MacTCP in this fashion, you can either contact Apple Computer directly, and buy the TCP Connection Pack, or (less expensively) purchase any of a number of software/book combinations. Northwest Link recommends the comprehensive and well-written Internet Starter Kit for the Macintosh, which includes MacTCP 2.0.4.
System 7.5.2 Note: if you have system 7.5.2, the TCP/IP control panel is not compatible with current implementations of MacPPP and its derivatives, and/or InterSLIP or MacSLIP. To use these control panels/connection protocols, you must remove the TCP/IP control panels and replace it with the MacTCP control panel from System 7.5.1.

---
Return to [TropicNet home page]